MazaJ Festival 2010


Main Events
Volatile Frequencies Conference
Thu 18 November from 9.30am at City University London, London
Volatile Frequencies Concert
Thu 18 November from 7.00pm at City University London, London
MazaJ Salon –
Recalibrating the Noise: is there a middle eastern sound art?
Sat 20 November from 5.30pm at Café Oto, London
Evening Concert at Café Oto
Sat 20 November from 8.00pm at Café Oto, London
Evening Concert at Café Oto
Sun 21 November from 7:00pm at Café Oto, London

Booking Information
Volatile Frequencies Conference: Free (Students) or £15 (inc. evening concert)
Volatile Frequencies Concert: £5
2 day MazaJ Festival pass:
£22 adv. only
Saturday MazaJ Concert:
£10 adv/£12 on the door
Sunday MazaJ Concert:
£10 adv/£12 on the door

Produced by
SAM (Sound and Music)
Zenith Foundation

Curated by


Venue Partners

Media Partner

Supported by
LCACE (London Centre for Arts and Cultural Exchange)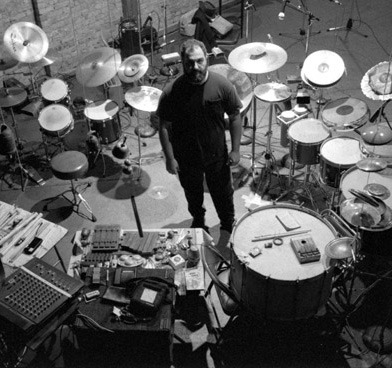 Michael Zerang (USA)
Percussionist, improvisor and composer Michael Zerang was born in 1958 in Chicago, Illinois as a first generation American of Assyrian decent. He has been a professional musician, composer, and producer since 1976, focusing extensively on improvised music, free jazz, contemporary composition, experimental theater, and international musical forms.
Zerang has collaborated extensively with contemporary theater, dance, and other multidisciplinary forms. With over sixty titles in his discography, he and has toured nationally and internationally since 1981 with an ever-widening pool of collaborators. He was the artistic director of the Link's Hall Performance Series from 1985-1989 where he produced over 300 concerts of jazz, traditional ethnic folk music, electronic music, and other forms of forward thinking music. He continued to produce concerts at Cafe Urbus Orbis from 1994-1996, and at his own space, The Candlestick Maker in Chicago's Albany Park neighborhood, from 2001-2005.
Zerang co-founded and performed with the musical groups Liof Munimula, The Neutrino Orchestra, and Trio Troppo amongst others. In addition to these ensembles, Zerang currently performs with many innovative musicians including AACM co-founder Fred Anderson, Peter Brötzmann, Mats Gustafsson, Raymond Strid, Sten Sandell, Don Meckley, Jaap Blonk, Daniel Scanlan, Kent Kessler, Barre Phillips, Jim Baker, Hamid Drake, Ken Vandermark, Luc Hautkamp, and Fred Lonberg-Holm.
http://truetone.com/power-supplies/1-spot-pro/1-spot-pro-cs7/