BAFTA Goes to the Arab World
11 – 14 July 2008 @ BAFTA, London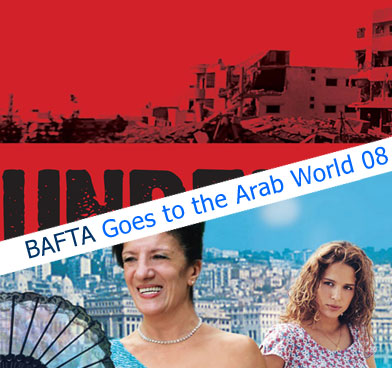 Zenith collaborated with the
British Academy of Film and Television Arts
(BAFTA) on its global event of the year
BAFTA goes to the Arab World
which took place at BAFTA, 195 Picadilly from 11 to 14 July 2008.
The British Academy of Film and Television Arts (BAFTA) in association with the Dubai Film Festival celebrated Arab cinema with BAFTA goes to the Arab World, a 4 day event in recognition of Arab cinema's contribution to the global film industry and World Cinema.
This prestigious event heralded recent releases from filmmakers who defy simple categorisation – most of them UK Premiers, including the award-winning
Captain Abu Raed
(Audience Award at Sundance Film Festival, Best Actor Award at the Muhr Awards- Dubai International Film Festival),
Under the Bombs
(EIUC Award at Venice Film Festival, Winner of the Golden Muhr Award – Dubai International Film Festival)
Paloma Delight
(Lumiere Awards, France), and two new short film documentaries from emerging Iraqi filmmakers.
The Weekend shined the spotlight on a new trend of auteur film making from Egypt through
Eye of the Sun
, as well as on the well-established and distinctive Syrian auteur cinema, which deserves greater recognition outside of its boundaries, with the screening of
Out of Coverage
and
A Plate of Sardines
. It also introduced for the first time to UK audiences an Emirati short that highlights the Gulf as a new destination for cultural creativity.
The selection of feature films at BAFTA includes themes that range from love, war and friendship to the underworld of crime and sado-masochism. The short films give a unique perspective on current hot issues in the region as well as an insight into a wide range of filmmaking approaches. Films from Algeria, Tunisia, Lebanon, Palestine, Egypt, Iraq, Syria, and the Emirates enabled audiences to enjoy a carefully crafted programme with Q&As and a talk charting the 100 years history of Arab cinema.

In recognition of 2008′s European and Arab cultural capitals – Liverpool and Damascus – BAFTA Goes to the Arab World featured Syrian films by two of Syria's most eminent directors, and went on tour to Liverpool as part of the Liverpool Arabic Arts Festival.


BAFTA goes to the Arab World highlights included Special film screenings and Events:



Special film screenings: Recent feature films + Q&As with the directors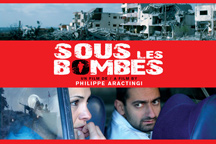 Under the Bombs, (Lebanon, 2007 / Phillipe Aractangi)
Under the Bombs is a visceral expression of anger and pain from a Lebanese man [the director] who could no longer tolerate seeing his country ransacked by war. This war began on July 12th 2006. Ten days later, in the most precarious of circumstances, Philippe Aractangi began shooting Under the Bombs. He only hired two actors. The rest of the characters in the film: refugees, journalists, soldiers, religious people and militants, all played their own roles. All of them, caught in the turmoil and in the ruins of war-torn Lebanon. All of them were living this new tragedy as an intimate part of themselves. This road movie is a fictional story set in harsh reality, giving each scene a vivid poignancy.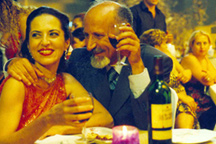 Khalass (Lebanon, 2007 / Borhane Alaouie) best screenplay & editor at the Muhr Awards – Dubai International Film Festival
Present Day Beirut, in the midst of chaotic reconstruction. Ahmed and Robby became friends during the war, sharing similar dreams, Ahmed's: poetry and theatre, Robby's: cinema. Both dreamed of a better world. Like many others, they fought for that dream. But they came out of the war with a bitter feeling of betrayal and disappointment. Ahmed works as a columnist for a local newspaper. Robby tries to make ends meet by directing vague video documentaries about the environment, but nobody is interested in them.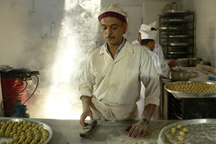 Out of Coverage (Syria, 2007 / Abdullatif Abdulhamid)
Amer is a middle-aged man living a busy life. He takes care of his own family as well as helps his friend Zuhair's wife and daughter to survive during his friend's absence in prison. Added to this is a bag of odd jobs which combine working as Arabic tutor to a Japanese student, working as sweet maker in a sweet shop, and taking up taxi driving on the side. The tempo of his life becomes almost slapstick-like. Amer's wife is not happy with her ever absent husband. Zuhair has been imprisoned for many years by now – one of the country's political prisoners with an uncertain future. When it looks like he is about to be released, Amer and Zuhair's wife realise that they have feelings for one another.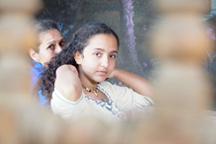 Eye of the Sun (Egypt, 2007 / Ibrahim El Batout )
From once being the capital of Egypt during the Pharaonic era and a sacred location marked by the visit of Jesus and the Virgin Mary, Ein Shams has become one of Cairo's poorest and most neglected neighborhoods. Through the eyes of Shams, an eleven-year-old girl inhabitant of this neighborhood, the film captures the sadness and magic that envelops everyday life in Egypt. In a series of tragic events, the characters of the film showcase the intricacies of Egypt's political system and social structure, and give a glimpse into the grievances of the Middle East region and the complex relationships of its nations.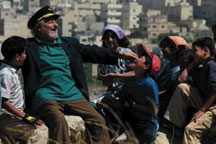 Captain Abu Raed (Jordan, 2007 / Amin Matalqa )
Abu Raed is a lonely janitor at Amman's International Airport. Never having realised his dreams of seeing the world, he experiences it vicariously through books and brief encounters with travelers. But after finding a discarded captain's hat, he is befriended by a group of children believing him to be an airline pilot. And the friendship begins… Captain Abu Raed is the story of everyday people intersecting across social boundaries. It is a story of dreams, friendship, forgiveness and sacrifice. Captain Abu Raed won the Audience Award at the Sundance Film Festival; and Best Actor at the Dubai Film Festival.
Paloma Delight (Algeria, 2007 / Nadir Mokneshe )
Need a building permit? Feeling lonely tonight? Call the national benefactress, Madame Aldjeria – she has the answer. When it comes to surviving in today's Algeria, no scam is too daunting for the woman who has adopted her country's name. If they're pretty and lacking in principles, her recruits can make a career for themselves. The latest of these, Paloma, is quite a hit, especially with Riyad, Madame Aldjeria's son. But the purchase of Caracalla Springs, the dream that should allow Aldjeria's clan to start a new life, proves to be one scam too many.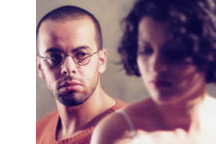 She and He (Tunisia, 2006 / Elyes Baccar )
He chooses to close the door of his soul, the window of his life, and tries to sleep for a long time. No television, no radio, no telephone and no contact with the external world… She came in a rainy night and knocked on his door. He refused her by ignoring then rejecting her presence. They engage in fetishistic, sado-masochistic acts that seem to bring him back to life in their own peculiar way. Does she succeed in changing his reality or was she a fantasy, a figment of the imagination of a man that seems mentally unwell?
Special film screenings:
Short films + Q&As with directors Maysoon Pachachi, Katia Saleh and Walid Al Shehhi

A Stranger in his own Country (Iraq, 2007 / Hassanain Al Hani from Independent Film & Television College, Baghdad )
Thousands of Iraqis have been displaced by sectarian violence and have had to seek refuge in other parts of the country. This is a portrait of Abu Ali, a refugee from Kirkuk living in a displaced person's camp on the outskirts of Kerbala. He is a peace-loving man with a keen sense of justice, trying to find a way to survive and provide for his family in the difficult circumstances in which they now find themselves.


A Candle for the Shabandar Cafe (Iraq, 2007 / Emad Ali from Independent Film & Television College, Baghdad )
Founded in 1917, The Shabandar Café in Al Mutanabi Street in the heart of the old centre of Baghdad, was a cultural landmark, where generations of Iraqis came to discuss and debate literature and politics – a living repository of Iraqi intellectual history and one of the last places where people could gather to exchange ideas. Emad had shot most of his film by the end of 2006, but in March 2007, a massive car bomb destroyed the Shabandar Café, all the bookshops on Mutanabi Street, and killed and wounded scores of people. Days later, Baghdad's poets and artists held a wake in the ruins of the street they loved so much and Emad took a small camera and went back to film. As he was leaving he was attacked, his camera stolen and he was shot in the legs and chest, and his own story is an epilogue to his film about the Shabandar Café and Mutanabi Street – Before and after they were destroyed.


The Singing Barber of Mosul (Lebanon / Katia Saleh )
A story bout a frustrated Iraqi barber from Mosul whose dream is to sing Celine Dion and become a super star. He flies to Western-style Beirut to participate in the Middle East version of Pop Idol.


Ashura: Blood and Beauty (Lebanon / Katia Saleh )
After three years of filming the biggest Shia ceremony in South Lebanon, this short offers a contemporary look at the1300 year old Ashura Shia ritual. The mix of modernity and tradition in Lebanon has made Ashura a platform for young people to meet each other. This film reveals a side to Ashura that the world has not yet seen. A side that is not bloody and violent but ambiguous and compelling.


And to the Arabs of Haifa a Special Message (Palestine, 2006/ Razi Najjar)
A couple of hippy looking Arabs in Haifa watch a broadcast by the leader of Hizbollah, Hassan Nasrallah, during the 2006 Israeli war with Lebanon, addressed to them – 'the Arabs of Haifa'.


A Plate of Sardines (Syria, 1997 / Omar Amiralay)
'The first time I heard of Israel, I was in Beirut, the conversation was about a plate of sardines. I was six years old, Israel was two.' In the company of filmmaker Mohammad Malas, Omar Amiralay revisits the ruins of the destroyed village of Quneytra and reflects on Syria's Golan occupied by Israel.


The Water Guard (Emirates / Omar Amiralay)
A poetic short highlighting new talent emerging from the Emirates.


Events:

History of Arab Cinema
– A lively discussion on Arab cinema hosted by Walter Armbrust, chairman and director of the Middle East Centre at Saint Anthony's College, Oxford, Albert Hourani Fellow, and university lecturer in Modern Middle East Studies at Oxford University. This talk explored the history of Arab Cinema across its different countries since the days of silent movies to this day.
Filming in the Arab World
- A focus on filming in the Arab region with contributions from major filmmakers from the UK, US and Europe and Q&As with key industry names. This event brought together industry professionals to highlight the benefits of filming in the Arab Region, in particular in Tunisia, Jordan, the Emirates and Morocco. Films that have famously shot in this region include Indiana Jones, Star Wars, The English Patient, Gladiator and Syriana.
Industry Network Event
(Private Event) – A filmmakers and distributors networking lunch hosted by BAFTA. BAFTA wished to repeat its success from previous global events in bringing together filmmakers and distributors with a view to exploring possible production and distribution partnerships between the Arab World and the UK. The prospects are promising as the trend increases for a penetration of Arab films into mainstream cinemas. This includes
Caramel
,
Days of Glory
,
Paradise Now
,
Divine Intervention
and
West Beirut
.
Opening and Closing Night Receptions
hosted by BAFTA, these events were a chance for a cultural crossover of filmmaking discussions and networking.