2011 Film Events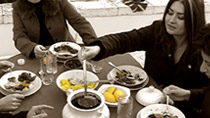 8 July 2011
Vanishing Spaces – Shubbak: A Window on Contemporary Arab Culture
Friday, 8 July 2011, 6.30 for 7pm + drinks – £15

As part of the Mayor of London's Shubbak Festival celebrating Arab culture across London, Zenith Foundation is presenting:

Vanishing Spaces (6 shorts total 80 minutes) + discussion with programmer Mona Deeley
With the 'Arab Spring 'still unfolding and Obama's recent call for the return of Israel to its 1967 boundaries, Vanishing Spaces provides a timely and engaging exploration of the people and places behind some of those events. The 6 shorts from Syria and Palestine reflect everyday lives played out in extraordinary circumstances, and poignantly record places and peoples that have endured existential turning points. The historic events referenced are still playing out today and have lost none of their power or resonance. Two of the films are a homage to Omar Amiralay, a leading Syrian intellectual, documentary maker, and political dissident who died earlier this year.

Bookings at The Idler Academy . Spaces are limited so please book ahead to avoid disappointment.
Location: 81 Westbourne Park Road London W2 5QH.T: 0845 250 1281

The Programme:

Na'im & Wade'a, Najwa Najjar, 1999, Palestine, 20 minutes
Na'im & Wade'a uses fascinating archive footage and oral history to take us back to Yaffa in Palestine in 1948, building a portrait of the life of the director's grandparents and their middle class social milieu until they were forced to leave the city at the time of the creation of the state of Israel.

Essay on the Euphrates Dam, Omar Amiralay, Syria, 1970, 10 minutes
A different story of dislocation in the name of 'progress' plays out in Syrian director Omar Amiralay's 1970 celebration of what he then perceived to be a socially and economically beneficial process of industrialisation – the building of the Euphrates dam. An understanding that he was to critically revise and retract in later works as the dam resulted in the flooding of villages and dispersal of their inhabitants.

Before Vanishing, Joude Gorani, Syria, 13 minutes
The course of rivers in Syria is picked up again in Before Vanishing. Tracing the Barada river from its source just outside Damascus through its increasingly dwindling path as it divides into 7 branches between homes in Damascus, creating a picture of its inhabitants along the way, and leading up to its vanishing. The Barada river, now a shadow of its former self, was named by the ancient Greeks the Golden Stream and is credited for being part of the reasons that enabled Damascus to prosper since ancient times.

They Were Here, Ammar Al Beik, Syria, 2000, 8 minutes
A visually powerful portrait of an abandoned steam-engine plant in Damascus, and a reflective homage to the men who laboured there for four decades. The filming style with its black and white shots, the documenting of a place of former industrial optimism, and the portrait it draws of the simple everyday concerns of the people linked to the place echoes influences from the father of Syrian documentary film, Omar Amiralay.

A Plate of Sardines, Omar Amiralay, Syria, 1997, 19 minutes'The first time I heard of Israel, I was in Beirut, the conversation was about a plate of sardines. I was six years old, Israel was two.' Ever since Omar Amiralay says that he has associated Israel with the smell of sardines. With this revelation, one becomes aware of how the sub-conscious impact of the formation of the state of Israel on countless lives in the Arab region remains unobserved, and sets the tone for a visually striking film that sees director Omar Amiralay in the company of filmmaker Mohammad Malas as they revisit the ruins of the destroyed village of Quneytra and its cinema, and reflect.

Soup Over Bethlehem, Larissa Sansour, 2006, Palestine, 10 minutes
An ordinary Palestinian family, Sansour's own, sit around a dinner table on a rooftop overlooking the West Bank city of Bethlehem. What starts as a culinary discussion about the national dish 'Mloukhieh' (a type of local spinach) soon evolves into a personal and engaging conversation about politics. Following on from 'A Plate of Sardines', the symbiosis of food and politics is becoming indicative of the Palestinian experience for some. Soup Over Bethlehem presents a stereotype already renegotiated. The Arabic spoken around the dinner table is interrupted by English, and family members hold a variety of international passports, jobs and academic degrees. The Diasporic traits now prevalent among Palestinian families lend a globalized quality even to life under the restraints of occupation. In turn, the Mloukhieh in the soup bowl represents a shared national gastronomic heritage – a single eternally consumable constant amid nothing but flux.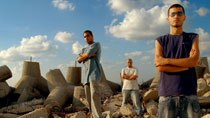 Dash Arts Arabic Series in Association with Zenith Foundation Present:
Slingshot Hip Hop + Phatwa @ Richmix on Wednesday, 6 July 2011
Nominated for Sundance Film Festival Grand Jury Prize in 2008, Slingshot Hip Hop is a documentary featuring hip hop artists DAM, PR, Abeer, Mahmoud Shalabi and others. The home hitting lyrics of songs such as "Meen Irhabi" ('Who Is The Terrorist"), downloaded over 1 million times on the internet, and the film's ability to powerfully convey the life context of the performers under occupation, will appeal to all viewers, whether hip hop fans or not.
'The culture of hip hop and rap is at its most powerful and yet its most tender in Slingshot Hip Hop' – Chuck D, Public Enemy
'Engaging look at a fascinating Arab subculture' – Variety
Phatwa
(11 minutes) is a short featuring Narcy, an Iraqi performer visiting the US from Canada, trying to make it in the rap game. When he tries to board a flight to New York with his friend Yushua to perform at a music festival, Narcy is stopped by airport security. What happens next will make you laugh, bob your head, and question the fate of Arabs in America post-9/11.
Location: Richmix 35-47 Bethnal Green Road, London, E1 6LA
If you have missed the event or would like to have the films on DVD you can obtain Phatwa from
Zenith Shop Online
.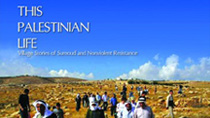 Zenith Foundation Presents at Launch Event of arabs.com
This Palestinian Life @ The Gherkin, London on Wednesday, 29 June 2011
This Palestinian Life focuses on the 'sumoud'- the Arabic term for perseverance and steadfastness- of the Palestinian nonviolent struggle against Israeli occupation and ongoing illegal annexation of Palestinian land.
'A beautifully conceived short documentary' – Kate Dannies, Daily News Egypt
If you were not at this event but would like to watch the film, it is available at
Zenith Shop Online
.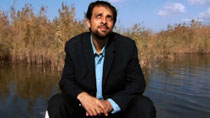 Dash Arts Arabic Series in Association with Zenith Foundation Present:

Hawi, Ibrahim El Batout, Egypt, (2010) @ Richmix on Wednesday, 2 March 2011, 7pm for 7.30 + live music
Hawi won Best Arab Film at the Doha Tribeca Film Festival and was selected at several international film festivals including Rotterdam. Shot in Alexandria using non-professional actors and an unpaid crew, Ibrahim El Batout's third feature continues the Egyptian film maker's obsession in contemplating the details of daily Egyptian life. AL Batout is considered as the spiritual father of the growing independent film movement in Egypt.

Location: Richmix 35-47 Bethnal Green Road, London, E1 6LA