Discover Arab Cinema @ BFI London, 2014←13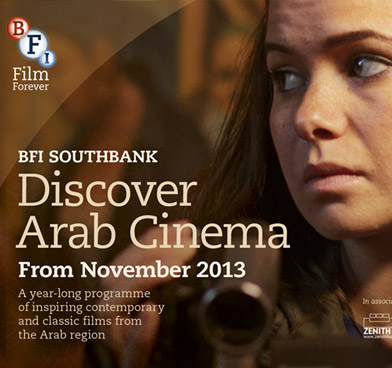 A year-long weekly programme of films from the Arab Region and Diaspora at BFI Southbank from November 2013 to October 2014 in Association with Zenith Foundation.
 
Discover Arab Cinema provides a dedicated platform for contemporary films and classics from the Arab region and Diaspora. Each month is organised by theme, genre or country, with four films or a selection of shorts shown within that focus. The programme showcases some of the most exciting directors, and films that often connect with pressing issues with which the region and world are currently faced.

Bookings
Tickets can be booked online HERE or by telephoning the BFI Southbank Box Office on 020 7928 3232. TO GET A DISCOUNT ON TICKETS just mention 'Zenith' when booking.

Venue
British Film Institute
BFI Southbank
Belvedere Road
South Bank
London SE1 8XT

Press Contacts
Liz Parkinson – Assistant Press Officer, BFI Southbank : ku.gro.ifbnull@nosnikrap.zil
Ilona Cheshire – Press Officer, BFI Southbank : ku.gro.ifbnull@erihsehc.anolI


 

PROGRAMME FOR DECEMBER 2014

The final chapter of Discover Arab Cinema looks at the cross influence
between literature, theatre and film. We present two contemporary classics from
Egypt with The Door to the Sun and The Yacoubian Building, both based on bestselling
novels. Filmmakers also embrace theatre as a source of inspiration, as with the
powerful film Incendies, based on a play by Wajdi Mouawad, and Games of Love and Chance,
from the director of Blue is the Warmest Colour, which cleverly hinges on the performance
of a play within the film.


Games of Love and Chance (L'esquive)
France 2003. Dir Abdellatif Kechiche.
With Osman Elkharraz, Sara Forestier,
Sabrina Ouazani. 123min. EST
Fifteen-year-old Krimo is bored with life on his rundown estate, until he catches sight of his classmate Lydia
rehearsing lines for a school play, Marivaux's love story 'A Game of Love and Chance'. Krimo gets an idea of how to woo Lydia, and director Kechiche (Blue is the Warmest Colour) gets the opportunity to riff on the theme of class and capture his energetic young cast's quickfire slang.

Tickets can be booked online HERE or by telephoning the BFI Southbank Box Office on 020 7928 3232.


The Door to the Sun (Bab el shams)
France-Egypt-Morocco-Denmark-Belgium 2004.
Dir Yousry Nasrallah. With Hiam Abbass,
Hussein Abou Seada, Fady Abou-Samra.
278min. EST
From a hospital in a Palestinian refugee camp in Lebanon we're transported on an epic journey covering some 50 years of Palestinian history through the life of a dying man, Younes. His story is remembered at his bedside as his friend chats with the nurse. Directed by one of Egypt's best-known directors, the film is based on the novel by internationally acclaimed Lebanese author Elias Khoury, and the complex structure invites us to reflect on the on the nature of memory and mythology.

Tickets can be booked online HERE or by telephoning the BFI Southbank Box Office on 020 7928 3232.


The Yacoubian Building (Omaret Yakobean)
Egypt-France 2006. Dir Marwan Hamed.
With Adel Imam, Nour El-Sherif, Youssra.
171min. EST. 15
If buildings could speak, the Yacoubian Building in downtown Cairo would tell the story of its great city; of the
ambitions that inspired its grand architecture and influenced the lives of its glamorous past residents, to the
political and social change that saw its roof overtaken by the poor and its main floors by the nouveau riche. Alaa Al-Aswany gives a voice to the Yacoubian Building, and adapts his 2002 best-selling novel for the screen, while director Marwan Hamed confronts the uncomfortable truths of pre-revolution Egypt with an all-star cast.

Tickets can be booked online HERE or by telephoning the BFI Southbank Box Office on 020 7928 3232.


Incendies
Canada-France 2010. Dir Denis Villeneuve.
With Lubna Azabal, Mélissa
Désormeaux-Poulin, Maxim Gaudette.
130min. EST. 15
Young Canadian twins Simon and Jeanne embark on life-changing and frightening journeys to their mother's homeland and into her mysterious past. In her will, their mother (played by Lubna Azabal) asks for Jeanne to find the father she thought dead, and for Simon to track down the brother he never suspected having. Based on Wajdi Mouawad's 2003 play, Incendies is a powerful, thrilling and moving story about how the traumas of war and violence can transcend generations and geography.

Tickets can be booked online HERE or by telephoning the BFI Southbank Box Office on 020 7928 3232.


Syrian Shorts Programme TRT:
72min

The Sun's Incubator
Syria 2011. Dir Ammar Al Beik. 12min.
Arabic and French with EST
This short film juxtaposes the mundane with the enormity of the revolutionary events taking place in the Arab region. Intensely private, without being sentimental, it captures the birth of the director's own child, at a critical point in history.

Foam (Zabad)
Syria 2008. Dir Reem Ali. 46min.
Arabic with EST
A family struggles to come to terms with their experiences as political prisoners, and their lives after the death of their father. Despite this, Foam is a sensitive and multi-layered film, permeated with a surprising sense of lightness and humour – a reminder of how these sentiments reach us even in our darkest hours.

Before Vanishing
Syria 2005. Dir Joude Gorani. 14min
This documentary traces the path of the Barada river as it splits into seven branches between various homes in
Damascus, creating a picture of its riverside inhabitants along the way. The Barada river (now a trickle of its
former self) was named 'Golden River' by the ancient Greeks, and is credited for enabling Damascus to prosper since ancient times.

Tickets can be booked online HERE or by telephoning the BFI Southbank Box Office on 020 7928 3232.




PREVIOUS SCREENINGS at BFI/DISCOVER ARAB CINEMA
→ PROGRAMME for OCTOBER and NOVEMBER 2014:

The present situation in Syria has impacted on what films we have been able to show in this programme. However, we're pleased to still be able to offer a much-deserved showcase of work that reflects the exceptional aesthetics, originality, and experimental nature of Syrian cinema. Ladder to Damascus, the latest feature by Mohamad Malas, one of Syria's pioneer auteur directors, screens alongside films from up-and-coming directors, and three exceptional shorts which tell intimate, tender stories through a crushing, larger context.


Round Trip
Syria-United Arab Emirates-Germany-
France-Egypt 2012. Dir Meyar Al Roumi.
With Ammar Haj Ahmad, Alexandra Kahwagi.
73min. Digital. Arabic with EST
Souhaire is tired of having to steal moments alone with her lover Walid in his taxi. When she accepts a friend's
invitation to visit her in Tehran, she and Walid take a train journey together, and along the way discover some truths about their relationship. Meyar Al Roumi's beautifully-shot film has a restless quality, emphasised by the landscapes glimpsed through the train window, and the soundtrack (by popular Lebanese music producer Zeid Hamdan) underscores the love story's transition from hope to pessimism.

Aspirin and a Bullet (Aspirin wa Rassasa)
Syria 2011. Dir Ammar Al Beik. With
Intissar Abo-Alzahab, Ammar Al Beik, Alisa
Al Hasan. 125min. Digital. Arabic with EST
This experimental and very personal film uses vignettes to explore the grey areas between the public and the private and reality and fiction. The director's friend tells stories of sexual encounters over a drink, while spouting French love song lyrics; Al Beik's mother sits for the film like a subject posing for their portrait; and the director discusses the nature of performance with his actress. These scenes are layered with excerpts from other films and clips of their directors (Bertolucci, Miike, Verhoeven) to intriguing effect.

Ladder to Damascus (Soullam Ila Dimashk)
Syria-Qatar-Lebanon 2013. Dir Mohamad
Malas. With Gianna Aanid, Najla El
Wa'za, Hussein Marii. 95min. Digital.
Arabic with EST
Ladder to Damascus marks the return to cinema of legendary Syrian filmmaker Mohamad Malas after almost a decade-long absence. Ghalia is inhabited by the soul of Zeina, a girl who drowned the day she was born. Haunted by Zeina's past life, Ghalia travels to Damascus to study acting. There she meets an aspiring filmmaker, fascinated by her duality, who finds her a place to live with other students, but soon the tumultuous events taking place in the streets encroach on their budding love affair.

→ PROGRAMME for SEPTEMBER and OCTOBER 2014:

The Arab region seems permanently anchored in the news with television also attempting more in depth exposure of it through documentaries. Yet, it is sometimes necessary to take a step back from what seems newsworthy or a latest development so to get under the skin of current events, or to reassess the past from a contemporary perspective that informs our present. The creative documentaries shown as part of Discover Arab Cinema do just that. They take as their starting premises unlikely and unknown startling facts such as unseen home movies from the Egyptian royal family in In Search of Oil and Sand, the desire for space exploration in Lebanese Rocket Society, the post death experience of the son of a PLO official in This is My picture When I was Dead, unsuspected complex events behind the very simple life of a Lebanese man in One Man Village, and life stories of Lebanese female prisoners holding a mirror to untold aspects of their society.


In Search of Oil and Sand
Philip Dib. Egypt. 2011/2012 Documentary. 50 min
This film within a film features unique footage revealed for the first time of a home movie by the King of Egypt's sister and her entourage dating back to the 1950s when Egypt was still a monarchy. The royal home movie was called In Search of Oil and Sand and depicts a fictionalized coup by a young officer against the King.  Poignantly, the movie was shot weeks before the actual coup by Nasser in Egypt that unseated the King, with the cast and crew playfully unaware of the poignancy of their film. It also portrays the glamour of that society, and features interviews with some of the surviving members of the King's entourage.  The documentary does a full circle, ending with Tahrir Square in January 2011, giving present events historic depth.

In Search of A City
Hala ElKoussy, Egypt. 2012, 34 min
How to document the multiple layers of one of the most ancient cities in the world in one short film? Director Hala Al Koussy is concerned with narrating history from below, compiling oral history and real accounts to create the voice of its fictional narrator Sein. In Search of a City uses both the historical and the subjective to weave a narrative about Cairo, a city with 8 million inhabitants. Sein's journey leads through the pyramids and age-old streets, through colonial districts modelled on Paris to new apartments in international style. Using voices from now and from the past, the film portrays a city repeatedly reborn, resisting fixed meanings, and its very complexity making it the megalopolis it is today.

Lebanese Rocket Society
Joanna Hadji Thomas & Khalil Joreige. Lebanon. 2012. 96 min
The strange tale of the Lebanese space adventure. In the early 60′s, during the cold war and the apex of Pan Arabism, a group of utopian students and researchers at Haigazian University enter the race to space and create the Lebanese Rocket Society. They produced the first rocket of the region. This unusual and heroic adventure, which had made the front pages of the press, is nowadays forgotten, and with it disappeared a certain collective dream. The film touches on the mythologies and historic events of those years: pan-Arabism and its decline after the Arab defeat by Israel in 1967, a moment which deeply transformed the Arab world and its self-perception.

This Is My Picture When I Was Dead
Mahmoud Al Massad, Palestine/Jordan 2010. Documentary . 83 min
Athens, 1983. The world media reports that 4 Year old Bashir is killed in the assassination of his father, a top PLO lieutenant. But death isn't to be the end of Bashir as he miraculously revives after being certified dead. Bashir, now a young man, digs up the past, and in the process reveals that the dream he and his father 'died' for has withered into the reality of a people turned against itself. The film is highly original and innovative for having at its premise a story that is stranger than fiction. It unfolds before us an intimate story that, despite the miraculous survival that is at its heart, seems to be on a trajectory with little hope.

The One Man Village (Sema'an Bil Day'a)
Simon El Habre, Lebanon 2008 . Feature Documentary . 86 min
A moving story of farmer Semaan El Habre. As the only inhabitant of Ain El Hazaroun, a small village in Mount Lebanon, Semaan stubbornly remains, while other villagers, who fled during the 15-year civil war, have failed to return. An auteur documentary poignant and sophisticated in its portrayal of simplicity, and of the impact of the country's bitter infighting on its villages and communities.

Shehrazade's Diary
Zeina Dakkache, Lebanon, 2013       
The documentary takes us behind the scenes on a drama therapy workshop culminating in a play at a Lebanese women's prison entitled Scheherazade in Baabda. "Murderers of husbands, adulterers and drug felons" powerfully reveal their stories – tales of domestic violence, traumatic childhoods, failed marriages, forlorn romances and deprivation of motherhood. The women of Baabda Prison share their personal stories and in doing so, hold up a mirror to Lebanese society. The film and theatre project are part of continuous work by the director on this subject, having completed in 2009 a similar project in a men's prison resulting in her film '12 Angry Lebanese'.


→ PROGRAMME for AUGUST 2014:  
We present a showcase of some of the most exciting filmmakers and trends in Lebanon from the last 15 years. In a country where war is never far beneath the surface, filmmakers have managed to subtly, humorously, and intelligently look at the fabric of their society and the lives of individuals, rather than directly depicting war and violence. From Nadine Labaki's portrayal of a group of ordinary Lebanese women to Ghassan Salhab's cast of one, this is your chance to explore life through other people's eyes.

Stable Unstable
Lebanon. 2013. Dir Mahmoud Hojeij.
Stable Unstable is simultaneously funny and sober, and speaks volumes on modern Lebanese society. The film is set in the apartment block of a Beirut psychologist on New Year's Eve. His patients, and the building's visitors and inhabitants, reveal themselves to us in the confined spaces of the elevator and the psychologist's couch, where stories of lonely souls intertwine – stories of people struggling to find a semblance of stability in an unstable country.
West Beirut
Lebanon. 1998. Dir Ziad Doueiri. 105min.
This award-winning, rights-of-passage tale is set against the backdrop of war-torn Beirut in 1975. Yet the civil war setting has the opposite effect from what one might expect – creating moments of great humour and adventure as we follow the lives of three teenage friends. Ziad Doueiri is masterful in his use of personal stories to capture darkly-iconic moments in Lebanon's history.

Caramel
Lebanon. 2007. Dir Nadine Labaki.95min.
Caramel is a romantic and colourful film that revolves around the lives of five Lebanese women in a beauty salon. Layale (Nadine Labaki) is stuck in a dead-end relationship with a married man; Nisrine, no longer a virgin, is due to be married and in her conservative family pre-marital sex is not accepted; Rima is attracted to other women; Jamale is worried about getting old; and Rose is an older woman who has just found her first love.

The Mountain
Lebanon. 2010. Dir Ghassan Salhab. 80min.
The Mountain, Ghassan Salhab's personal, fiction-essay, invites the viewer to join the main protagonist on a journey with a mysterious start and a mysterious end. The story begins with a lie; a man pretends to be travelling abroad when, in fact, he's isolating himself in a mountain hotel retreat in Lebanon. Beautifully
shot, with crisp images and very little dialogue, the film envelops us in a sense of alienation and isolation. The silence is punctuated, however, by two startlingly violent events which reveal a tortured state of mind seeking a cathartic release.
→ PROGRAMME for JULY 2014:  
We trace Moroccan cinema from the 60s to its more recent manifestations. Ahmad Bouanani's Mirage (1979) and his short 6/12 (1968) are considered masterpieces of Moroccan cinema, while directors Fawzi Ben Saidi, Nabil Ayouch and Laila Kilani are part of the new generation of filmmakers that have established themselves within Morocco and internationally.


Sur La Planche
Leila Kilani, Morocco, 2011. 106 min.
Badia and Imane work in Tangier peeling shrimps and at night they earn money robbing men. The determined Badia is looking for a way out of her work at the shrimp factory whatever the cost.  After making a documentary about immigrants who risk the crossing from Tangier to Europe, the breathtaking feature debut of Leïla Kilani is also about the bitter-sweet dream of globalisation. Unsentimental yet touching, it features no shots of Tangier's beauty or historic spots, leading us instead streight to its urban underbelly.

Ali Zoua Prince of the Streets
Nabil Ayouch. Morocco. 2000. 99 min. 
Ali, the son of a prostitute, together with his friends Kwita, Omar, and Boukber are street kids living in the harshness of the port of Casablanca. Their everyday lives are filled with violence, begging, and indifference, alleviated only by a dose of glue sniffing. In order to survive they create a bond of friendship and family between them. The bond is cut short when Ali is killed by a blow to the head from a rival gang. Ali's friends decide not to report his death to the police. Instead they decide to give him a worthy burial, to bury Ali on the private island he so often dreamed of. 
Mirage
Ahmad Bouanani. 1979. 100 min + 6/12.Morocco 1968. 18 min.
Ahmed Bouanani's first feature film, Al-Sarab (Le Mirage) played a pivotal role in bringing experimentalism to Moroccan cinema. A fable-like  story of  a poor young farmer who finds treasure in a flour bag. This takes him on a journey where nothing is as it seems. The film's narrative structure continuously makes allusions to other art forms such as mythology and literature, referencing Morocco's rich history and oral traditions.
DEATH FOR SALE
Fawzi Ben Saidi. Morocco, 2011. 114 Min
Morocco's entry for the Best Foreign Language Oscar at the 85th Academy Awards, Death for Sale is a film noir about young desperate petty criminals stuck in dead end lives. Malik is in love with the prostitute Dounia and they find themselves having to act as agents for a police inspector. 


→ PROGRAMME for JUNE 2014:  
Defining identity does not get more complicated or imperative than in the Palestinian context. The lack of a Palestinian state has not stopped Palestinian filmmakers being some of the most active and creative filmmakers in the Arab region and its Diaspora.


Omar
Hany Abu Assaad, Palestine, 2013
A young Palestinian man finds himself in a Catch-22 situation. He is arrested by Israelis and released on condition that he would grass on his friends, while at the same time trying to keep alive his love interest. The young protagonists, frustrated by their daily experiences of occupation and humiliation, are now also torn apart by internal mistrust and betrayals. A multiple award winning film including Un Certain Regard at Cannes and an Oscars nomination.


When I Saw You
Annemarie Jacir, Palestine, 2012
Set in Jordan in 1967 during a wave of influx of refugees fleeing persecution in their native Palestine in the formative decades of the creation of Israel. Frustrated by being in the camp and separated from his father and homeland, 11 year old Tarek searches for a way out, and stumbles upon a training camp for Palestinian 'Freedom Fighters' known as Fiadieen. The film revisits this era of secular Palestinian struggle for freedom and homeland in a moment in time still largely untainted by future inner fighting.


Last Days in Jerusalem
Tawfik Abu Wael, Palestine, 2011,75 min
A middle class Palestinian couple revisit their relationships as they are poised to end an important chapter in their lives – leaving their native Jerusalem for Paris in an attempt to mend their dysfunctional marriage and the tensions of life in Jerusaelm. On their last days before departure they find themselves reconnecting with all that they have intended to leave and coming clean with one another, making their exit all the more trying.


Divine Intervention
Elia Suleiman, Palestine, 2002, 92 min
A son's grief after his father's death, the wordless longing of two lovers, and smoldering political anger about Palestinian life under Israeli occupation are refracted through a series of quick, mordant vignettes, cinematic riddles, and visual puns, delivered in elegant deadpan. Elia Suleiman stars in his own film in silence, and the interlocking series of setups, punch lines and digitally assisted fantasies add up to something touching, provocative and wonderfully strange.


→ PROGRAMME for MAY 2014:  
The Gulf is a newcomer to film making in the Arab region. Despite this, the United Arab Emirates has become an important platform and source of support for Arab Cinema through the Dubai and Abu Dhabi Films Festivals. There has been a great volume of short films from the Emirates, among their finest is Sabeel which we will be presenting. However, some of the most notable Gulf films have come from less expected quarters such as Kuwait and Saudi Arabia. This is all the more surprising considering movie theatres are banned altogether in Saudi Arabia. We present two women filmmakers, both undertaking civil disobedience of sorts by defying restrictions on women in Saudi Arabia. We also present from Kuwait creative, quirky and critical films that have mushroomed from a film desert. This month is truly about finding great films where you least expect them to be.


Wajda
Haifa Al Mansour, Saudi Arabia, 2012, 90 min
An enterprising Saudi girl signs up for her school's Koran recitation competition in the hope of raising the remaining funds she needs to buy a green bicycle she desperately wants. The girl is motivated by a sense of play and freedom, not piety. The mother is struggling with the fact that her husband is about to marry a second wife, but tells her daughter it is her Uncle's wedding. It's a simple but powerful film, and the Director lets the actions speak for themselves without moralising. The film subtly challenges the restrictions placed on women in Saudi Arabia. It makes history by being the first feature film directed by a Saudi woman, shot entirely in Saudi Arabia and with a Saudi cast.

SAUDI AND UAE SHORTS (85 min)
Sanctity (Hurma)
Ahd Kamel, Saudi Arabia, 2012, 37 min
Ahd directs herself as Areej, a recently widowed and pregnant woman in Jeddah who makes ends meet by taking in a young drug dealer while fending off the unwanted advances of her brother-in-law.

Shourouk Ghouroub
Mohamad Aldhahiri, Saudi Arabia, 2009, 28 min
A very daring portrayal of the life of an underprivileged boy in Saudi Arabia and of his sexual abuse.

Sabeel
Khaled Al Mahmoud, UAE,20 min
Shot in Ras Al Khaimah in a mountainous area of the UAE, the film presents a much lesser known facet of Emirati life. It tells the story of two local boys living an isolated rural life, eking a living by selling on the side of a little frequented highway vegetables from their garden. They care for their ill grandmother with few words ever exchanged, making the film unsentimental as well as tender.

KUWAITI SHORTS (88 min)
Wonderland a True Story
Dana al-Mojil, Kuwait, 2011, 38 min
An adaptation of Lewis Carroll's tale set in Kuwait, a fantastical exploration of the intriguing parallels between the contemporary social and political context of Kuwait and Alice's Wonderland.

Sneeze
Meqdad Al Kout, Kuwait, 18 min with Ali Azam and Nezar Al Qandi
An adaptation of Chekov novel, Ali a Bengali worker in Kuwait, accidentally sneezes on his Kuwaiti manager's face while at prayer in the mosque and then obsesses over apologising to the manager.

Fulan
8 min, Kuwait, 2012, Musaed Khaled with Meqdad Al Kout and Mousaed Khaled
A day in the life of a Kuwaiti with a visual focus on what he does with his hand. Underneath this comedic perspective is a critique of boredom and bureaucracy that seems to be the fate of many young Kuwaitis.

Banana
Meqdad Al Kout, Kuwait, 2009, 24 min
A Kuwaiti man with social limitations decides to undertake an Islamic Marriage of Pleasure (Zawaj Al Mut'ah). In addition to its controversial plot, the film's surreal scenes challenge expectations, keeping viewers on edge, never able to predict the following scene, deliberately creating a sense of discomfort with incongruous images.

Richard III, An Arab VIP
Shakir Abal, Kuwait, 2011, 70 min
The ancient tragedy of a classic play turns into a contemporary portrait of art and politics in the Arab world. A documentary film crew follows the lives and fortunes of a pan Arab troupe of actors as they tour with a highly acclaimed version of Shakespeare's classic tale of tyranny and dictatorship, conceived from a contemporary Arab perspective by renowned Kuwaiti dramatist Suleiman Al-Bassam. Starting in the respective countries of the cast in Lebanon, Iraq and Syria, then to the rehearsals in Kuwait, the troupe travels to the United Arab Emirates for a private performance at the behest of a princess, and to the charged atmosphere of a U.S. premiere at the Kennedy Center in Washington D.C. The journey breathes life into the historic characters of the play, uncannily reflecting the real-life politics in the Arab region.
→ PROGRAMME for APRIL 2014:  
A selection of experimental films from the Arab region spanning 16 years engage us with new angles on the familiar, and reconfigure our perspectives on pressing questions of our time.


RE-PRESENTATION
A selection of shorts that weave unexpected links between culture and conflict. A theme that brings the films together under one selection, only for them to diverge again in terms of their styles and the other dimensions of meaning and aesthetics that they present us with. Four films by Palestinian artist Larissa Sansour use shared cultural imagery from science fiction, as well as the familiar setting of communal eating to explore the state and statelessness of Palestine. Two films by Hassan Khan are experimentations in sound, as well as rich fields of associations on the politics of representation. Palestinian director Ihab Jadallah also draws us into the power of representation, pointing to the links between the media, Hollywood, Palestine, and the Arab region.


Soup Over Bethlehem
2006.Palestine. Dir Larissa Sansour . 2006 . 9 min

A Space Exodus
Palestine. Dir Larissa Sansour. 5 min

Nation Estate
2012. Palestine. Dir Larissa Sansour. 9 min

The Shooter
2007. Palestine. Dir Ihab Jadallah. 7 min

The Story of Milk and Honey
2011. Lebanon /Palestine. Dir Basma Al Sharif.. 10 min

Mulimgauze R.I.P.
2010. Egypt. Dir Hassan Khan . 8 min

Jewel
2010. Egypt. Dir Hassan Khan. 6 min

Copy Left
Palestine. Dir Ihab Jadallah. 8 min

Tresspass the Salt
2010 Palestine/Lebanon. Dir Larissa Sansour and Youmna Chlala. 2010. 11 min

DICTATORSHIP
The causes and effects of dictatorship are brilliantly and creatively re-imagined by Malik Ben Smail, transporting us through the history of Algeria in Territoire(s), and presenting us with a prototype dictator, and the fear psychology he thrives on, in Demokratia. Tunisian director Sadri Jemail signals the urgent need for change for pre-revolutionary Tunisian society. And Egyptian film Crop, draws an unusual profile of Egypt's Mubaral and his predecessors through profiling the Al Ahram newspaper building where their image was created and communicated to the public.

Demokratia
2001. Algeria. Dir Malek Ben Smail. 14 min

Territoires(s)
1996. Algeria. Dir Malek Bensmail. 26 min

At the beginning
Tunisia. Dir Sadri Jemail. 19 minutes

Crop
2012. Egypt. Dir Marouan Omara and Johanna Domke. 45 min.

REVEALING GLAMOUR
Fame and glamour are devices of two films from Lebanon that evoke nostalgic eras and contrast our sense of familiarity with the past and the famous against their little known private lives, and the more problematic socio-political context in which they lived.

The Three Disapearances of Suad Hosni
2011.Lebanon. Dir Rania Stephan . 68 min

Hold on My Glamorous
2009. Lebanon. Dir Shirin Abu Shaqra. 34min

CHRONICLE OF A DISAPPEARANCE
1996, Palestine, Elia Suleiman, 88 min
Seemingly unrelated comedy sketches, often surreal, sometimes physical and
always funny, are woven together in an autobiographical account that is also a poignant
commentary on the Israeli Occupation of Palestine. The first in a trilogy, it established director Elia Suleiman as an influential filmmaker that has helped forge a self-confident experimental cultural space in the Arab region.


→ PROGRAMME for FEB & MARCH 2014:  
The lone criminal typical of the thriller genre is transformed into a socio-political beast- the religious zealot, the nationalist fighter, the hustler of the rough crime-ridden streets of modern urban life.

Moroccan director Nabil Ayouch follows the life trajectory of two young brothers from their upbringing in the slums to their recruitment by extremist groups grooming them for murder. A different kind of suicide attack altogether unravels in Lebanese director Ziad Doueiri's The Attack which was controversially set in Israel- this time the murderer bucking all the stereotypes associated with a suicide bomber. In Casanegra, director Nour-Eddine Lakhmari reverses the romanticism of films such as Casablanca, depicting a criminal underbelly to the city. And two original films go beyond the thriller to offer tales of two cities. The Last Man uses the thriller and vampire genre with an experimental angle, reflecting on the city of Beirut. Algerian director Rashid Bouchareb choses London and the July 05 terrorist bombings as the context for his film London River, a city that epitomises cosmopolitan life and the precariousness of the threads that hold together its social fabric.


Horses of God
Nabil Ayouch, Morocco, 2012
Powerfully narrated and convincingly acted, the film takes us inside an immense Moroccan slum and depicts the hopeless lives of its inhabitants. As the film unfolds, we see how fundamentalist recruiters found in it fertile ground for would be terrorists and suicide bombers. But there are no certainties as to who would fall for their rhetoric and who would carry out the attacks. Even stronger than its portrait of the process of radicalisation of individuals, the film conveys a moving and intimate portrait of the relationship of two brothers growing up in a tough environment, a theme reminiscent of previous great films of Nabil Ayouch such as Ali Zoua, Prince of the Streets (2000).

The Attack
Ziad Doueiri, Lebanon, 2012
The Attack started off promisingly in the Arab region, winning the award for Best Film at the Marakesh International Film Festival (2012) and was selected at the Dubai International Film Festival. Then things took a turn for the worse with the film being banned in several Arab countries including Doueiri's very own Lebanon. This is due to it being partially filmed in Tel Aviv and using Israeli actors while there is an official boycott of Israel in place. The irony is that The Attack, despite its setting, is primarily faithful to an Arab narrative of the plight of Palestinians. This thriller is about a Palestinian ER doctor well-adjusted within Israeli society and whose wife dies in a suicide explosion the day he is being honored in Tel Aviv for his work. With the Israeli investigators accusing her of being the bomber rather than a victim, he sets out to prove his wife's innocence. But who is right?

Casanegra
Nour-Eddine Lakhmari, Morocco,
A cross between classic film noir and "Mean Streets," the film is a dark tale of two small-time hustlers with big dreams looking to escape their dead-end lives in Casablanca. Casanegra was a big hit in Morocco, especially among young audiences. Part of the appeal are the two lead actors, both non-professionals, who convey a nervous vulnerability beneath their tough-guy shells. Shooting on location and mostly at night, Lakhmari captures the beat of a city that is as beautiful as it is tarnished.

The Last Man
Ghassan Salhab,Lebanon, 2007, 100 min
Each morning Beirut awakens to a new murder seemingly committed by a serial killer, with victims found emptied of their blood.  At the same time a doctor, Khalil, begins to experience strange symptoms that destabilise him and transform his life. A connection slowly emerges that seems to link Khalil to these victims. Ghassan Salhab's body of films have come to narrate the state of Lebanon, and Beirut in particular, during and after the civil war. This film is no exception, with the vampire a metaphor for a city that imperceptibly drains you of life.

London River
Rachid Bouchareb, Algeria, 2009, 134 min
A powerful and subtle reflection on terrorist attacks in London and the nature of the multicultural societies we live in. Two strangers from contrasting backgrounds come to London looking for their missing daughter and son, worried that they have been unable to reach them since the 7 July 05 bombings in London. They discover that their children had been a couple living together at the time of the attacks. The gentleness, goodness and vulnerability of the mother, played to perfection by Brenda Blethyn, renders even more shocking her internalised prejudices, that come to the surface when she finds out that her daughter was taking Arabic lessons and may have converted to Islam. The daughter and her boyfriend, of African Muslim origin, vacillate equally convincingly between being suspected by their parents and the authorities of being either perpetrators or victims of the London bombings. In the course of this, unexamined prejudices and unexpected meeting grounds come into play.


→ PROGRAMME for JANUARY 2014:  
The Algeria focus traces the concerns of Algerian filmmakers from independence to this day. We are screening, probably for the first time in London, the rarely available films of Algerian director Mohammad Lakhdar Hamina, who was the first filmmaker from the Arab region to win the Palme D'or and we will be showing his winning 1975 film Chronicle of the Years of Fire. Equally powerful is December, his 1972 film that tells a story of resistance to colonialism. After the first phase of independence, many Algerian films shifted their focus to new concerns – dictatorship and fundamentalism within Algeria, the pull of migration and the experiences of the diaspora – as seen in the remarkable film Bab El Oued City by veteran director Merzak Allouache who won the Variety Award for Director of the Year 2013, and Homeland by new director Mohamed Hamidi that was part of the Cannes Film Festival official selection.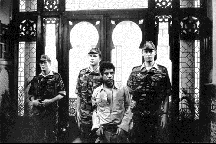 December
(Décembre)
Algeria 1972. Dir Mohammad Lakhdar
Hamina. With Michel Auclair,
Geneviève Page, André Thorent,
Julien Guioma. 120min. EST.
UNCONFIRMED
The third feature from a key figure in the development of Algerian cinema and independent cinema in the Arab region, the film deals with the case of a French officer troubled by the violent acts of torture perpetrated by the French army against members of the FLN.
A moving exploration of the moral dilemmas of a French army officer and an Algerian resistance leader, as the two embark on a battle of wills in an interrogation involving escalating levels of torture and murder.
Thu 2 Jan 18:00 NFT2
Sat 4 Jan 20:30 NFT2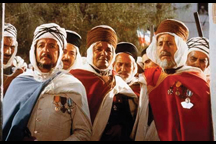 Chronicle of the Years of Fire
(Chronique des années de braise)
Algeria 1975. Dir Mohammad Lakhdar
Hamina. With Yorgo Voyagis,
Mohammed Lakhdar Hamina,
Leila Shenna. 177min. EST.
UNCONFIRMED
The first film from the Arab region to win a Palme d'or, this beautifully shot epic chronicles, through the life of the lead character, the hardships suffered under French colonialism and the emerging resistance to occupation. A moving exploration of issues
fundamental to Algeria and France and whose international resonance remains today, yet surprisingly little explored.
Tue 21 Jan 19:40 NFT2
Sat 25 Jan 14:30 NFT2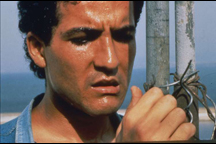 Bab El Oued City

Algeria 1994. Dir Merzak Allouache.
With Nadia Kaci, Mohamed Ourdache,
Hassan Abidou. 93min. EST
Taking place in an impoverished neighbourhood in Algiers, the film follows the adventures of a young man after he tore down the loudspeaker of a neighbouring mosque when he could no longer stand its admonitions following its takeover by a local radical mob. It contains one of the clearest and most persuasive depictions of the recent rise of Islamic fundamentalism and shows a comprehensive cross section of contemporary urban Algerian life. The film played in Cannes, where it won the FIPRESCI Award.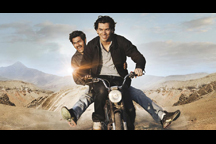 Homeland
(Né quelque part)
France-Algeria 2012. Dir Mohamed Hamidi.
With Tewfik Jallab, Jamel Debbouze,
Fatsah Bouyahmed. 87min. EST. Digital
A young French-Algerian has to go to Algeria, his ancestral country which he has never visited before, to try to save his father's house. On his journey he is won over by the humour of the extraordinary characters he meets. Among them is his cousin, a quick-witted wheelerdealer who dreams of doing the reverse journey and making it to France. Newcomer Tewfik Jallab as the lead and popular French-Moroccan comedian Jamel Debbouze, as his crazy cousin, ensure a lively journey for all.
Tue 14 Jan 20:50 NFT2
Sat 18 Jan 18:20 NFT2
→ PROGRAMME for DECEMBER 2013:  
Families have been a powerful theme to many films from the Arab region and diaspora. This theme is emotive by definition, and adding to its impact is the way that family acts as microcosm for wider society, as well as being a formative element in defining our identity. All four films in the selection are the feature film debuts of their directors, immediately establishing them in the ranks of greatly talented directors. All four films won critical acclaim with both Hold Back and Atach wining the FIPRESCI critics' prize at Cannes, Le Grand Voyage wining the Luigi De Laurentiis Award at the Venice Film Festival, and The Last Friday achieving best film awards at San Sebastian and Dubai International film festivals.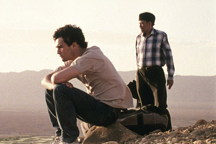 Le Grand Voyage

France-Morocco-Bulgaria-Turkey 2004
Directed by Ismael Ferroukhi
With Nicolas Cazalé, Mohamed Majd, Jacky Nercessian.
Running time 108 min
A Moroccan immigrant in France enlists his adolescent son, Reda, to drive him
across seven countries as he undertakes the Hajj to Mecca. Outstanding performances,
and a beautiful poignant film which won Best First Film at the Venice International
Film Festival.
Dec 23 18:20
28 Dec 20:45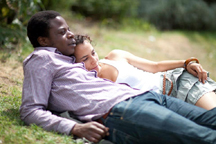 Hold Back
(Rengaine)
France 2012. Dir Rachid Djaidani. With
Slimane Dazi, Sabrina Hamida, Stéphane
Soo Mongo. 75min.
A gripping film that is set in Paris around an Algerian-French family. Sabrina is the only girl among 40 brothers. She is in love with a young black Christian man and they want to marry. It would have been so simple if her eldest brother Sleiman were not gathering up his siblings to oppose the union, reflecting points of tension in the wider relationship between Arab and black communities in France.
17 Dec 20:45 NFT3
Sat 21 Dec 15:40 NFT2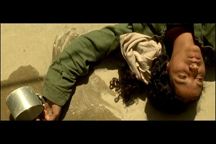 Atash
(Thirst)
Palestine 2004. Dir Tawfic Abu Wael. With
Hussein Yassin Mahajne, Amal Bweerat,
Ruba Blal. 109min.
Hussein Yassin Mahajne plays stern Palestinian patriarch Shukri who relocates his family to a remote desert location, haunted by a family scandal. Shukri earns a meagre living from producing charcoal. When his water tank breaks, Shukri decides to set up an illegal water pipeline, a move that exacerbates the tensions in his relationship with his family, especially his son. Winner of the FIPRESCI prize at the Cannes Film Festival, this beautifully shot feature from Tawfik Abu Wael powerfully depicts a state of extreme isolation.
Thu 12 Dec 18:10 NFT3
Sat 14 Dec 20:40 NFT2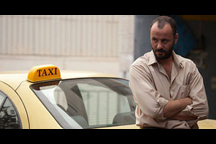 The Last Friday
(Al Jumaa al Akhira)
Jordan 2011. Dir Yahia Al Abdallah. With
Ali Suliman, Fadi Arida, Yasmine Elmasri.
88min.
Having lost his home and his wife to his compulsive gambling habit, Youssef is in urgent need of money to pay for a life-saving surgical operation. This sudden change in circumstance shatters his sense of isolation; at the same time his son, teenager Emad, seems to be heading down a similar wrong path.
Wed 4 Dec 20:30 NFT3
Sat 7 Dec 18:10 NFT3
→ PROGRAMME for NOVEMBER 2013:  
The past decade has seen a burgeoning spirit of independence in Egyptian cinema which November's programme will seek to highlight. Ibrahim El Batout's Eye of the Sun (2008) marked the start of a movement of Egyptian directors who broke from the star system to adopt a new form of realism in Egyptian cinema. The programme will include El Batout's latest film Winter of Discontent (2012), a moving film about life under Hosni Mubarak's police state, and the underlying conditions that led to the revolution. In the last few years a loose collective of like-minded filmmakers including Hala Lotfy, Ahmad Rashwan and Ahmad Abdallah have emerged from the region and during November the season will showcase their work, including Rashwan's Born on 25 January (2011), Lofti's Coming Forth by Day (2012) and Abdallah's Microphone (2010).

Mona Deeley introduced the New Egyptian Cinema focus at BFI with a talk defining the genre and the history of realist cinema in Egypt. Read full transcript HERE.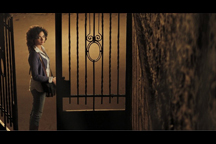 Winter of Discontent (El Shita Eli Fat),
Dir Ibrahim El Batout , Egypt 2012, 94min
Wed 6 Nov 20:30 BFI South Bank/NFT3
Fri 8 – Thu 21 Nov BFI South Bank/Studio
A moving film about life under Hosni Mubarak's police state, and the underlying conditions that led to the revolution. Revolving around three characters – an activist, a journalist and a security officer – in the events surrounding the protests at Tahir Square, the film fictionalises partly autobiographical or real accounts and relies on improvised dialogue and scenarios – the signature stylistic approach of El Batout.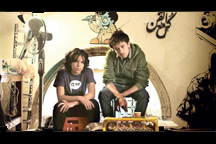 Microphone
, Dir Ahmad Abdallah,  Egypt, 2010, 120min
Fri 15 Nov 18:20 BFI South Bank/NFT3
Sat 16 Nov 20:40 BFI South Bank/NFT2
Part of a new genre of filmmaking emerging among independent filmmakers in Egypt, Microphone mixes fiction and cinema verité as it follows an Egyptian expatriate's return to Alexandria
https://www.thecareclinic.org/buy-amoxil-500mg-online/
, where he encounters the city's underground hip hop and graffiti scene. The film's non-scripted approach brings together fictional characters with elements of the actors' real-life biographical details.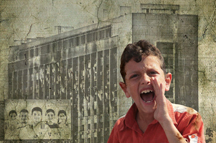 Born on 25 January (Moloud fi Khamsa we Aishreen Yanair)
,  Dir Ahmad Rashwan, Egypt, 2011, 80min
Tue 19 Nov 18:20 BFI South Bank/NFT2 + Discussion in BFI Southbank Blue Room.
Sat 30 Nov 16:00 BFI South Bank/NFT2
From January 25 to May 27, 2011, this passionate, personal film follows four months of the Egyptian people's revolution as seen through the director's eyes. Tracing the popular protest back to the Tahrir Square demonstrations against the US war in Iraq in 2003, it refers to upheaval in Tunisia and the wider Middle East. January 25 is the beginning, but May 27 is not the end as the film points to a continuing revolution.
Discussion following the film screening on
Tue 19 Nov 19.45 BFI Southbank Blue Room
Speakers will explore wider aspects of the work as well as the ongoing developments in Egypt and the Middle East.
All are welcome and refreshments will be served.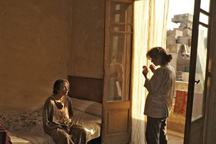 Coming Forth by Day (Al Khuruj Ila Alnahar)
,  Dir Hala Lotfi, Egypt 2012, 95min
Sun 24 Nov 20:40 BFI South Bank/NFT2
Tue 26 Nov 20:40 BFI South Bank/NFT2
This drama about a woman and her mother looking after her incapacitated father slowly builds up an extraordinary sense of intimacy between the characters and the viewers. Originally called The Stroke, a reference to the sick state of pre-revolution Egyptian society, the title was changed during production in response to ongoing Egyptian revolution: Coming Forth by Day is also the name of the Pharaonic Book of the Dead, an allusion that hints that death may be the route to a new life.