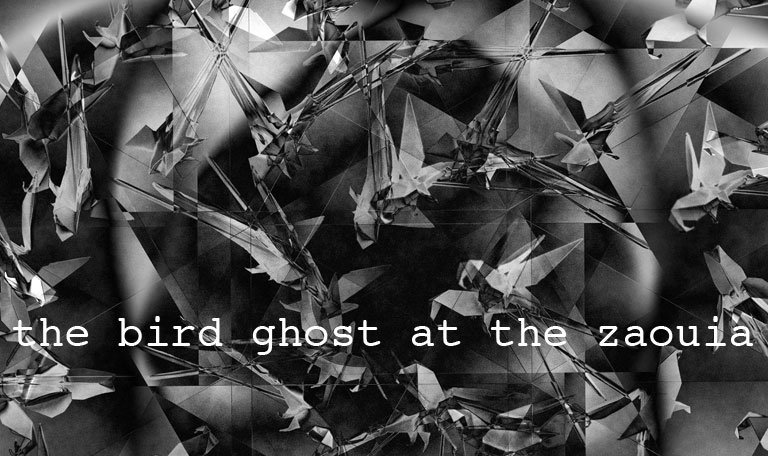 the bird ghost at the zaouia -
a multi-channel sound installation
by Seth Ayyaz
A MazaJ production presented by Zenith Foundation
in association with Leighton House Museum and Nour Festival
October 31 – November 5, 2011
Leighton House Museum
Free exhibition
Museum admission applies
"
For the person whose heart has been conquered by the fire of the love of God Most High, music is important, for it makes that fire burn hotter. However, for anyone whose heart harbors love for the false, music is fatal poison for him and is forbidden to him.
"
(Al-Ghazzali: On Listening To Music)
Between 2002 and 2011, I made many hours of recordings at various zaouia (Sufi shrines), mosques and religious spaces in Morocco, Egypt, Syria, and Lebanon while attending various prayers and ceremonies (dhikr, zar, lilat, adhan, salat, tilawa). At the request of the respective religious leaders, no 'musical' material has been used. I found birds, resonant tails, breathes, winds, noise, overheard conversations, and extraneous sounds floating in, sounds that were left behind.
The tensions within Sharia about the permissibility and place of music is long, complex and ongoing. Virtue or poison? As well as engaging debates within Islam,
the bird ghost at the zaouia
looks outwards, asking questions about sonic orientalisation – tourism that captures the 'ethnic' and colonises the ear. The history of Leighton House and its association with the imperial period offers a special context in which to immerse your ears.
Seth Ayyaz
lives in London and is composer-performer spanning live electronics, free improvisation, noise, electroacoustic, and Arabic musics – principally nay (end-blown flute), ghaita (reed pipe), and darbuka and daf (hand percussion). Drawing on his background in neurosciences, his work is concerned with (dis)embodied perceptions and how these resonate across psychological and social spaces. His work offers counter-narratives to current metaphors of cultural exchange and hybridity, instead foregrounding issues of friction, displacement and translation.
www.sethayyaz.com
the bird ghost at the zaouia
installation will be accompanied by a limited edition artist's publication.
Location
:
Leighton House
, 12 Holland Park Road, London W14 8LZ
Underground: High Street Kensington, Olympia, or Holland Park
Map
Opening hours:
Daily 10am to 5.30pm, closed Tuesdays
Free guided tour on Wednesday at 3pm
Museum Admission charges:
£5 adult, £3 Concession (over 60, 16 and under, full-time students), ticket includes free return entry within 12 months
Free entry for Friends and Patrons of Leighton House Museum and Linley Sambourne House, Art Fund members, ICOM, Blue badge guides, Museum Association members. Valid proof must be presented.

More info:
Nour Festival

(Image commission for the bird ghost at the zaouia by Thomas Qualmann)