2012 Film Events
21 September 2012
Safar: A Journey Through Popular Arab Cinema
Institute of Contemporary Arts (ICA), London

'Arab Cinema in the UK: The Present and the Future'
Friday 21 September at ICA 15:45-16.40

Mona Deeley of Zenith Foundation is taking part in the panel discussion 'Arab Cinema in the UK: The Present and the Future' with co-panelists Jason Wood (Director of Programming for the Curzon Cinema Group), and Ali Jaafar (Executive Director of Quinta Communications' Independent Film Division and Programmer for the London Film Festival). The Panel is chaired by Safar's curator Omar Kholeif.

The Panel Discussion is part of a wider Forum taking place on the same day and featuring a talk by film academics Dr Viola Shafik and Dr Dina Matar (15.00-15.45) and a panel featuring actors and directors Hussain Fahmy, Philippe Aractingi, and Khalid Abdalla and chaired by Brian Whitaker (17.00-18.00).

The Forum opens the event Safar: A Journey Through Popular Arab Cinema taking place at the ICA between 21 and 27 September 2012, presented by the Arab British Centre in partnership with the ICA and the Dubai International Film Festival. Most of the films will be presented by their actors/directors and are scheduled as follows:

Bosta (2005): 21 September at 20:30
Watch out for Zouzou (1971): 22 September at 18:15
Stray Bullet (2009): 22 September at 20:50
The Beginning and the End (1960): 23 September at 15:30
Alexandria, Why? (1978): 23 September at 18:00
Captain Abu Raed (2007): 25 September at 19:00
Terrorism and kebab (1993): 26 September at 18:30
One-Zero (2009): 26 September at 20:30
The Yacoubian Building (2006): 27 September at 18:30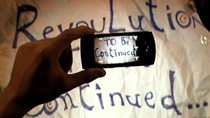 21-24 June 2012

Zenith Foundation is presenting two films relating to the revolutions taking place in the Arab region which will be screened as part of the Open City Docs Festival in London.

ROUGE PAROLE
Tunisia / 2011, Documentary, 94 min
When: Friday 22 June at 19.45
Where: AV HILL THEATRE in UCL Medical Sciences Building, Malet Place WC1E 6BT
Get tickets!

The Arab Revolution erupted in a country that few expected to be in the lead of such fervor. Tunisia started a political earthquake that shook the whole world. "Rouge Parole" is the story of the Tunisian popular revolution and the expulsion of President Ben Ali told by people on the street.

Director Elyes Baccar was born in Tunis in 1971. He graduated from the Conservatoire Libre du Cinéma Français in Paris. He directed several shorts, plays and documentaries prior to his first feature, 'She& He' (2006). This film pushes boundaries within regional film making in its treatment of sado-masochism and depression. And was screened at BAFTA as part of Zenith Foundation"s London Arab Film Festival. He won the Al-Jazeera Documentary Film Festival's award for best short for 'Pakistan 7.6′ and his feature documentary 'Wailing Wall' won the Osian Film Festival's special jury award.

"Amid the expected barrage of focus on 2011′s Arab Spring, 'Rouge Parole' stands out as one of the few certain to have a life beyond the immediate burst of interest. That's thanks to Elyes Baccar's accomplished eye, sympathetic and intelligent ear, and a wide-ranging scope that goes beyond instant headlines" (Variety).


TAHRIR 2011: The Good the Bad and the Politician
Egypt / 2011, Documentary, 90 min
When: Saturday 23 June 21.00
Where: 1-19 TORRINGTON PLACE, LONDON, WC1E 7HB at THE LIGHTBOX
Get tickets!

When Egyptians woke up on January 25th, 2011, they never expected the one day demonstration planned for that public holiday to evolve into a full out revolution aimed at overthrowing the regime"s 30 year long grip on power. Three young directors tell their story of the revolution, choosing to focus not only on the politics, but on the individuals and actions that helped change Egypt and the Arab world.

Directors Tamer Ezzat studied at the American University in Cairo. He directed the documentaries Makan Esmo el Watan (06), The Place I Call Home (08) and the feature The Ring Road (10). Tahrir 2011 is his latest film. Ayten Amin was a second assistant director on the films Zay el naharda (08) and Basra (08). She directed the short film Spring 89 (09). Tahrir 2011 is her latest film. Amr Salama was born in Riyadh, Saudi Arabia. He is a writer, director, editor and actor. He directed the films Zay El Naharda (08) and Tahrir 2011.

"We are not likely to get a documentary on the 2011 Egyptian Revolution with greater scope than Tahrir 2011" (Variety).
"One of the 10 Films to look out for at Venice" (Reuters).

Open City Docs Fest is devoted to exploring the world we live in through the vision of documentary film. The festival challenges, explores and expands ideas of what documentary can be and do, provoking debate and opening minds. With interactive screenings, special events, conversations, workshops, performances, music, and great food and drink – the festival provides stimulation and enjoyment for everyone. A diverse programme of more than 100 films from around the world, innovative workshops and filmmaker led events takes place over four summer days and nights in venues around central London and across University College London's (UCL) WC1 campus.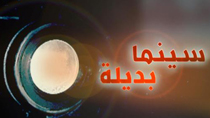 Ongoing (Weekly Television Programme)
Cinema Badila: Alternative Cinema on BBC Arabic TV
Mona Deeley of Zenith Foundation is engaged as a BBC producer for Cinema Badila.

Broadcast Schedule on BBC Arabic TV with live stream on their website:
Saturdays 19:06 GMT (20:06 London Summer Time) and repeats on Tuesdays and Thursdays at 22:06 GMT.

Cinema Badila gives Arabic alternative cinema exposure, for the first time, to a potential 25 million viewers. Broadcasting the films in full, Cinema Badila puts the spotlight on independent short films, showing a wide array of filmmaking styles and interests. Through films that are non-commercial and non-formulaic, the programme engages us with under exposed personal narratives, and movies that challenge us to rethink our preconceptions about cinema, or engage with urgent subject matters from unusual entry points. Cinema Badila also features interviews with directors and experts, as well as going behind the scenes to reveal the art of filmmaking, and update viewers with a round-up of cultural news.

Please check out our call for submissions for information about making submissions to the television programme.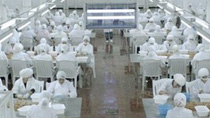 January-February 2012
41st Edition of International Film Festival Rotterdam

Mona Deeley of Zenith Foundation was independent advisor to the festival, scouting in relation to Arab feature film content. She was also delighted to present the Moroccan film, Sur La Planche, by Leila Kilani (2011) as well as take part in the Q&A team at the festival, presenting some of its other selections.

SUR LA PLANCHE
Morocco / 2011, Fiction Feature, 106 min
Badia and Imane work in Tangier peeling shrimps and at night they earn money
robbing men. The determined Badia hates peeling shrimps and is after any way
out at whatecer cost. After making a documentary about immigrants who risk
the crossing from Tangier to Europe, the breathtaking feature debut of Leïla
Kilani is also about the bitter-sweet dream of globalisation. Unsentimental
yet touching, it features no shots of Tangier's beauty or historic spots,
leading us instead streight to its urban underbelly.

Director Leila Kilani was born in 1970 in Morocco, She has been working as a
freelance journalist since 1997. She started working on documentary cinema
from 1999, making, among others, Tanger, Le Rêve Des Brûleurs and Our
Forbidden Places. Sur La Planche is her debut fiction feature film.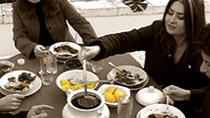 1 February 2012
Due to popular demand, Dash arts repeated the screening of Zenith Foundation's Shubbak 2011 film programme, 'Vanishing Spaces'.
The 2012 screening was part of the Dash Arts 'Arabic Series' project encompassing theatre, music and film. Details of the
Vanishing Spaces programme.