A conversation between November Paynter and Can Altay
November Paynter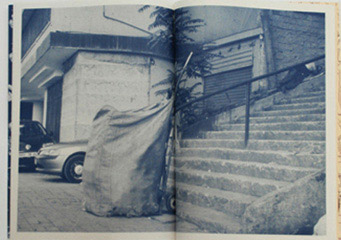 We are Papermen, he said (2003), publication image
NP: We first worked together in 2003 when I invited you to present the Minibar project in an exhibition called Making Space that I curated for Platform Garanti Contemporary Art Center in Istanbul. The show aimed to open up the idea of using and experiencing the urban context beyond the planners' intent, in more explorative and improvisational ways. I knew that we would likely show Minibar as a slide projection, but your participation went well-beyond the addition of a requested art object and ended up as an interactive arena where the public were invited to comment on their experience of authoritarian structures in the urban sphere and how they could be contradicted. In the end, the gallery walls became plastered with texts on the topic and the public seemed to really relish the opportunity to have and share a voice. The same year you presented We are Papermen, he said at the Istanbul Biennial. Due to its location on the pedestrian street Istiklal, Caddesi Platform had a very different audience to the Biennial; I wonder what it meant to show work in these two different venues and contexts? And to create collaborative work at Platform with your sister Deniz Altay, and in the end also with the public?
CA: I think that different modes of collaboration were at stake. The collaboration with Deniz Altay involved bringing together our research and interpretations around a common area of interest, as we were both working on the minibar phenomenon. This involved taking excerpts from a set of interviews that were mainly conducted with the young people who hung out at the minibars, and transforming this set of correspondences into the basic unit of the piece. We composed a wall narrative as a launching device, but multiplied copies of these statements – ranging from personal historical notes, to general commentary, to drunken drifts – to be at the audience's disposal. Additional papers and two rolls of sticky tape left out on a table were our way of providing the basic tools for the piece to grow through time and in the exhibition space. All of these were inspired by the nature of how the minibars came about in the first place, and how a production of meaning (and function) grew to encompass a totally unexpected territory, by simple gathering, drinking, and making use of existing physical elements that were initially there to draw boundaries, and mark private territories or public infrastructures. Bringing all these statements from an unknown scene in Ankara, to the most crowded pedestrian street of Istanbul, where Platform Garanti was located, and the very strangely welcoming nature (as you recall there were hundreds of random passersby going in and out of that space) of the gallery itself, gave way to a kind of interpretation and reconfiguration that was performed solely by the audience/viewer/visitor/makers. Eventually the piece grew out of control, there was conflict within the system (just as in the minibars), and roles and actions had to be negotiated. So what seems at first glance to be a simple gesture of participation was actually a way to reflect on the minibar phenomenon from within the space of art.
We are Papermen, he said
(2003) was quite similar in that, again, the installation was pretty much shaped by the issues being discussed within the work. You are right to suggest that the Biennial had an altogether different audience. But the work was also partly tackling the problematic relationship between artist (myself) and subject (papermen). Papermen in Turkey are the informal rubbish collectors that sort and select one type of rubbish to later take for recycling. The most common collectors are those of paper and paper-based materials. On the other hand, part of the piece invited the viewer/visitor to go through an excavation of pages of diary material, from which they could pile up their own sequence and story, and which included accounts (from the very personal, to scientific research findings, and newspaper clippings) and attempts to encounter papermen and figure out how they operate in big cities in Turkey. So in a sense, the audience now had access to an array of materials (that can also be seen as a pile of garbage), from which they made something for themselves, that they can take home and read. Here, the collaboration – if we may call it that – was quite choreographed or framed, but I still had no control over who takes what and how one reads the storyline. Well, one can say this is always the case, but the relation between work and viewer moved from the perceptive to the physical realm with this work.
NP: The next exhibition we explored together at Platform was 'Art For…' (implying art for export) a series of three shows that looked at the burgeoning interest from Europe in Turkey and its contemporary art scene. The series of three shows started by hosting works shown in Europe or elsewhere but never in Turkey and ended with the exhibition Normalization, which pushed the notion further to delve into a variety of concerns about the driving practice of 'normalization' both politically, socially and personally. The first two shows in the series saw some works being recreated for our space, but in more modest ways, such as Cevdet Erek's work 2nd Bridge being scaled down, and a wall painting by Haluk Akakce first shown in Italy reinstalled in a more confined space; these 'mimickings' and the idea of working to normalize our own process of curating the show, resulted in your installation that initially condensed the first show into the second and then the first two shows into the third. Again the collaboration involved various other participants as you included works by the other artists in the exhibition in your own installation, sometimes asking them to recreate their own works within this new context. This shift, from working with the audience to working with other participating artists in the same exhibition as yourself, seems to be a practice that now drives many of your installations. How did the 'Art For…' installation come about? How was working with a group of artists selected by the curators? And did this experience feed into other projects?
CA: One can see it as a more violent gesture on my behalf in comparison to the previous pieces, but looking back I can say this was where the three pieces we've discussed so far culminated. In a way the questions around exhibition-making and exhibition-space return to the scene, bringing along the "unpredictable reconfiguration" (to quote Engin Oncuoglu) that was evident in the works that looked into the city for their subjects. It also brought forward questions of authorship and the boundaries between the artist/work of art/exhibition/audience; where does one start and the other end? Or do they end? I was also a bit obsessed with the pre-conceptions of how the spaces for art function, such as the periodical tabula rasa – the complete cleaning up of the space before each new show, which relates to the notions of whiteness and neutrality, which are not true! The physically claimed neutrality is a way to undermine the socio-economic-political frames and infrastructure of how art institutes function. So this action of condensing each exhibition and keeping it in the space, with samples from the original works, photographic documentation of installations, and existing elements or furniture to be re-shaped and re-composed within the same space, but for longer than usual durations and in a periodically growing sense, was a way to intervene in and reconfigure such pre-conceptions. It was also a challenge to the 'short-term memory loss' not only in art, but in life and politics – in a sense how the city or the country does not tend to accumulate knowledge of its recent past, and how it tries hard not to relate or learn from its recent past. In the end, the whole project involved many artists' blessings and agreement, as the original pieces were to be re-configured. Not everybody agreed to this, I guess 2 out of 18 artists did not agree, so I ended up showing only photos of their work, taken by other people. However, these were balanced with the more inventive contributions, such as Leyla Gediz's painting. The painting she had shown in the first exhibition of the series belonged to a collection that did not want to take the risk of showing the piece within my constellation. After discussing this situation, Leyla painted a detail of the original round canvas, in 1:1 scale, again on a smaller round canvas, which introduced further thoughts of originality, reproduction and art historical references via the painting being a 'detail view' to the first painting. This was an expansion to the original intentions, and really made the installation 'grow' and also allowed me to act more freely in the second round of condensation, of making the
Normalization
piece.
NP: The work you proposed for the exhibition New Ends Old Beginnings that I curated in 2008 for the Bluecoat gallery in Liverpool was a very different kind of piece. This time the curatorial request was that you respond to your experience of having spent time in Dubai. Was this an unusual experience for you given that so many of your art installations deal with the space of the gallery and the cross-referencing of your work in relation to the other works being exhibited? Perhaps you can describe Deposit (Spring Deficit: After Dubai, After Hammons, and after the politics of white noise) (2008) and how it came to be a more formal sculptural embodiment?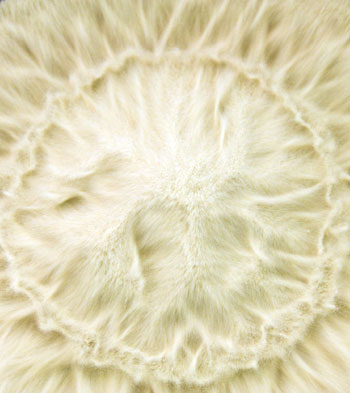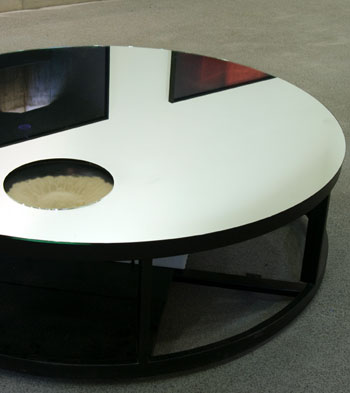 CA: I think that cross-referencing still exists in the piece, but I can also say it was my take on making a self-contained work, producing an object/system, and taking responsibility for its existence in the world of singularities. That cross-referencing eventually exists as the mirror surface captures its surrounding and those who are looking at the piece. But perhaps I should first tell you a bit about the ideas that made it.
Deposit (Spring Deficit: After Hammons, After Dubai, and after the politics of white noise)
is a sculpture, which operates mechanically as a fountain, a fountain that mobilises sand instead of water- a sand fountain. The sculpture works through the range of potential meanings a fountain holds – from historically being associated with wealth and power, to its religious connotations, to the idea of the 'spring', to its uses as a public service or charity, its symbolic prestige, its use for acoustic blockage in secret diplomatic meetings, its importance in Baroque, and its resonance in 20th century art. I titled the piece before the global financial crisis emerged, but I see it resonating well with the conditions of today. In relating to Dubai it also reflected Western discourse about this city. It is a sort of mirror-world where certain things are reflected obliquely, or are simply reversed; all the while, what constitutes the reflection and the reflected remains rooted in capitalism and corporate development. The fountain that remains a fountain, but strives to function with sand instead of water, is an attempt to pin down that moment of mirroring, not only to illustrate, but to comment via a singular sculptural object (a totality – that circulates grains of sand) instead of other representational or documentational tools and narratives.
The process of making the piece was also interesting. After your invitation/commission and after deciding on the main principles and title, I discussed at length with Paul Bartlett, a friend and robotics wizard, about possible ways of making the fountain fully function as a closed circulation system that works with sand. We looked at mechanical devices used for grains or sanitary powders, I also started looking into what else was available, but all the time the piece was growing more complex and much larger than necessary. It was a focused brainstorm-sketching session with Asli Kalinoglu during a train-ride that first made me realise we could simplify the piece by chopping out certain mechanisms, forms and all that was unnecessary, until we came to the point where the movement of sand was not necessarily through circulation (which was Hammons' way). Instead it could be achieved through sound, and we had already considered sound as integral to the piece. So, sand, sound, mirror, and pond or pool came together in the final form as
Deposit
.
This is an edited excerpt taken from an interview by November Paynter for a book on Can Altay's work entitled Can Altay, (pigeons are people) published as part of the Contemporary Art Series in 2010 by art-ist, Istanbul.
November Paynter is Director of the Artist Pension Trust, Dubai and an independent curator based in Istanbul. She has held the positions of Curator at Platform Garanti Contemporary Art Center, Istanbul; Assistant Curator of the 9th International Istanbul Biennial and Consultant Curator at Tate Modern for the exhibition Global Cities. Independent curatorial projects include As the Land Expands at Al Riwaq Art Space, Bahrain (2010), The Columns Held Us Up at Artists Space, New York with Vasif Kortun (2009) and New Ends Old Beginnings at the Bluecoat and Open Eye galleries in Liverpool (2008). Paynter often writes for art periodicals including Artforum, Bidoun and Artasispasific, as well as for artist and exhibition publications.
Can Altay was featured in the
New Ends, Old Beginnings
exhibition.