MazaJ Festival 2010


Main Events
Volatile Frequencies Conference
Thu 18 November from 9.30am at City University London, London
Volatile Frequencies Concert
Thu 18 November from 7.00pm at City University London, London
MazaJ Salon –
Recalibrating the Noise: is there a middle eastern sound art?
Sat 20 November from 5.30pm at Café Oto, London
Evening Concert at Café Oto
Sat 20 November from 8.00pm at Café Oto, London
Evening Concert at Café Oto
Sun 21 November from 7:00pm at Café Oto, London

Booking Information
Volatile Frequencies Conference: Free (Students) or £15 (inc. evening concert)
Volatile Frequencies Concert: £5
2 day MazaJ Festival pass:
£22 adv. only
Saturday MazaJ Concert:
£10 adv/£12 on the door
Sunday MazaJ Concert:
£10 adv/£12 on the door

Produced by
SAM (Sound and Music)
Zenith Foundation

Curated by


Venue Partners

Media Partner

Supported by
LCACE (London Centre for Arts and Cultural Exchange)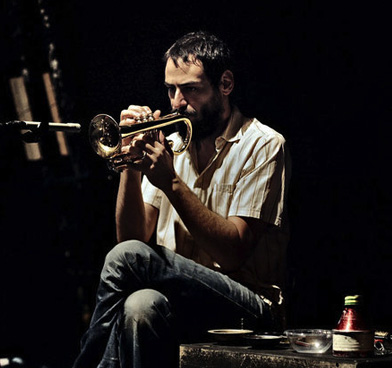 Mazen Kerbaj (Lebanon)
Mazen Kerbaj lives and works in Beirut where his main activities are music, comics, and painting. He has published 10 books, many short stories, and drawings and has exhibited his work in Lebanon, France, England, Spain, Sweden, Germany, Switzerland, Australia, Dubai, Malaysia and the USA.
Kerbaj is one of the founders of the Lebanese free improvisation scene, both as a trumpet player and as an active member in the MILL association that in 2001 founded and organises the annual Irtijal international festival for free music in Beirut. Now in it's 10th year, Irtijal has featured improvisers such as Axel Dörner, Fred Van Hove, Peter Brôtzmann, Johannes Bauer, The Ex, Lê Quan Ninh, and the Japanese laptop artist Taku Unami. In 2005, Kerbaj, together with guitarist Sharif Sehnaoui, launched Al Maslakh, the first label for experimental music in the region.
Since 2000, Kerbaj has played solo and in various groups at venues in Middle East, Europe
https://cpsych.org.uk/z-pak-360/
, and the USA. His regular and occasional collaborators include Sharif Sehnaoui, Christine Sehnaoui, Raed Yassin, Charbel Haber, Franz Hautzinger, Axel Dörner, Lê Quan Ninh, Bertrand Denzler, Stéphane Rives, Mats Gustaffson, Guillermo Gregorio, Gene Coleman, Michael Zerang, Fred Lonberg-Holm, Jim Baker, Jack Wright, Michael Bullock, Vic Rawlings, David Stäckenas, Martin Küchen, Ricardo Arias, Jason Khan, The Ex, Jarrod Cagwin, Thomas Lehn, Joe McPhee, and Raymond Boni.
www.kerbaj.com
www.irtijal.org
www.almaslakh.org