From Arab Cities to New Ends, Old Beginnings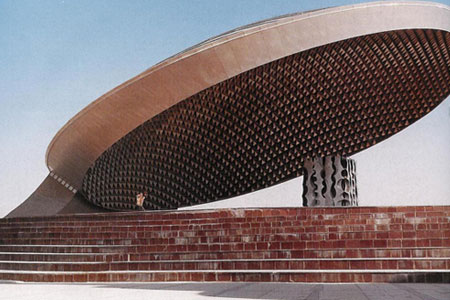 The New Ends, Old Beginnings exhibition took place between 11 July and 3 September 2008 at the Bluecoat and Open Eye Gallery in Liverpool (UK) as part of the Liverpool Cultural Capital of Europe Programme, attracting over 16,000 visitors. The show was researched and planned in partnership with Zenith Foundation and curated by November Paynter.
In its inception, the show was based on research undertaken by Zenith Foundation on the theme of 'Arab Cities'. The Arab Cities Project sought the development of an exhibition which investigates the intersections of art and architecture within the particular context of Arab metropolises. We wanted to launch a conversation between architectural and artistic practices in order to consider how urban spaces are shaped, experienced and represented as cities moved from independence to developing their own multiple identities formulated through desires for the future, lessons from the past, and socio-economic and political contingencies. Bringing together sound, photography, moving image and installations, which respond to and resonate with the cities of Baghdad, Beirut, Damascus, Cairo, Mecca, Casablanca, Gulf Cities, and cities of the Occupied Territories in Palestine, the project sought to explore the built environment in its historical and social complexities.
The Arab Cities Project lent itself in equal measure to a landmark high-budget exhibition that would have addressed individual cities with their individual trajectories and complexities, or to a smaller show that would do away with explicit city limits focusing instead on thematic areas. The latter was the approach selected for the New Ends, Old Beginnings show.
Instead of attempting to group or survey artists on the basis of their regional belonging or nationality, the New Ends, Old Beginnings exhibition succeeded in linking artists through approaches in their work, engaging with their concerns on terms relevant to the themes of the exhibition, delineating sophisticated relations of subject, medium, narrative and aesthetic.
The New Ends, Old Beginnings exhibition featured Cevdet Erek's Timeline (2007) and 0-now (2007), Sharif Waked's Jericho First (2002) – made on site specifically for the Bluecoat, Tarek Al Ghoussein's Untitled (C Series) (2007), Lara Baladi, Diary of the Future (2007 – 08) – commissioned by the Bluecoat; and photographic series Surface of Time (2004-07), Can Altay, Deposit (Spring Deficit: After Dubai, After Hammons, and After the Politics of White Noise) (2008) – Commissioned by the Bluecoat; and Mirrorworld (2008), Ziad Antar, Mdardara (2007), Hrair Sarkissian, photographic series Unfinished), Randa Mirza, Parallel Universes (2006-08), Tarek Zaki, Monument X (2007), Michael Rakowitz Return (2006 – 2008), and Grounded (2008), and Chourouk Hriech's Untitled drawings.
Mona Deeley Director, Zenith Foundation